Dime Box • Five and Dime Waltz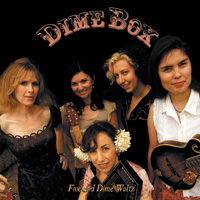 Track listing:
1. Live A LIttle
2. Betsy
3. High Road
4. Mama
5. Bone To Pick
6. Somehow Somewhere
7. Cotton Pickin'
8. Do I Ever Cross Your Mind
9. Five & Dime Waltz
10. Nobody
11. Up to Here

Produced, recorded and mixed by Dennis Moody at Dennis Moody Recording
Assisted by Justin Smith

Kristi Callan: Lead vocals and rhythm guitar
Edie Murphy: Fiddle, mandolin and vocals
Yolande Ng: Lead guitar and vocals
Pam Moore: Bass and vocals
Laura Ann Masura: Percussion
with...
Matt Cartsonis: Jaw harp, banjo and guitar on Somehow, Somewhere
Dennis Moody: Additional percussion and harmonica
---
Artists • Buy Something! • Discography • News • Sounds • Links • Mailing List • FAQ • Contact