Action Now (v.1, 1982-3)
While The Direct Hits were not happy about changing their name, manager Don Williams saw it as an opportunity to present the band as something new, rather than a band who had been around a couple of years.
Paula Pierce wanted the band to have a garage-style name. Paula pushed for The Shylocks, a name that had been used by a Swedish garage band in the '60s. This idea had no support from bandmates Jim Schuster, Mike Lawrence and Scott Hillman, who did not share her garage fixation. (Note: Paula was unaware of the anti-Jewish stereotype associated with the name Shylock. Had she been, Paula never would have suggested the name.)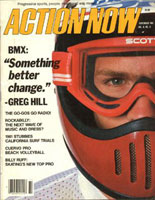 As fate would have it, Don's friend, rock journalist Vicki Arkoff had written a story on The Go-Go's for a lifestyle magazine that focused on skateboards, BMX, snowboarding, surfing, motocross and alternative music. Vicki gave Don a copy of the magazine, he took one look at the cover and knew he had the name for the band: Action Now.
Paula hated it. However, the rest of the band thought it was a cool, contemporary name. She was willing to compromise and call the band "The Action Now," claiming that the band had to have a name that started with "The." Although Paula was the leader of the band, the other three members and Don over-ruled her and The Direct Hits became Action Now.
Paula's resistance to the name continued. When she was interviewed for a special issue of Flipside to be included with Posh Boy's Rodney On The ROQ Vol. 3, where Try was going to make its debut, Paula claimed the name of the band was The Action Now. Her unilateral decision to alter the name of the band without telling anyone did not sit well with her bandmates. Also, because there was a '60s band called The Action, they felt The Action Now was too similar. To some mild confusion, the band was called "Action Now" on the back cover, but "The Action Now" in the magazine.
This would have been a minor issue had the song gotten strong rotation on Rodney On The ROQ and elsewhere, but it didn't. Try disappeared from Rodney's playlist after a single play. It was a disappointment, but the band was relieved to an extent, because no one felt it represented the band and the direction it wanted to go.
What direction the band was going to go was also a source of contention. Mike and Scott wanted to move Action Now in the direction of such UK punk bands as Stiff Little Fingers. Paula was not shy about her near-total devotion to garage music. Jim and Don had been satisfied with the sound the band had developed over the years and didn't want any drastic changes.
Beyond the issues of the direction of the band, Jim had started a quiet rebellion of his own. Having an extensive record collection and knowledge of music, Jim would often recognize where Paula had lifted the songs she was "writing" and simply refuse to learn them (ever since v.2, Paula had recorded rough demos on a boombox in her bedroom and given them to Jim to learn before bringing the songs to the band).
Other times, Jim felt the songs were too garage and wouldn't learn them for that reason. Jim was backed up on this by Mike and Scott, and they all complained to Paula that she was turning Action Now into a garage version of Sha-Na-Na.
With Jim on virtual strike, Paula decided that she would sing the new songs she had written. During this same time, Paula had modernized her appearance. She had abandoned her '60s look for an '80s look that included a billowy skirt, puffy blouses, a headband and feathers. Paula was willing to do whatever she thought was necessary to make it, even though that was at odds with her hardcore garage attitude. Over the summer she had finished her degree in art from Chaffey College in Rancho Cucamonga, so Paula was looking at either getting a job or making a living from music.
Given Paula's new look and even more flamboyant stage demeanor, the rest of the band agreed that having Paula sing more songs was a good idea. Jim was happy to go along with this arrangement as he'd get to play more lead guitar—remember, Jim was a lead guitarist when he was drafted as The Digits' bass player.
This wasn't necessarily an artistic decision, but one that everyone felt would keep the band together until they could record their Posh Boy album. By the end of 1982, Paula was singing That's Your Way Out and You Lie, two songs that later appeared on The Pandoras first album, It's About Time. Paula also took over lead singing duties on the controversial (within the band) Someone Who Will. At the same time, Jim's songwriting had improved with And That's Your Fate being added to the set.
In January 1983, Action Now played a show to an enthusiastic crowd on a Friday Night at Cal Poly Pomona (where Sue Greenberg and Don had first seen The Quick almost seven years earlier—another coincidence). Many people who were there considered it to be, perhaps, the band's best show ever. They played confidently, aggressively and with a defiant stage presence that left the band sweat-soaked after the last encore.
As it happened, it was Paula's last show with the band. She was inspired by her own performance to strike out without Action Now. Paula called Don the next Monday and told him she was quitting to start her own "authentic" garage band—no one tried to talk her out of it. A week later, Paula asked Jim to join her in an effort to put together a new band—a strange idea, considering his antipathy toward her newest material. Jim declined, setting into motion The Pandoras with Gwynne Kahn (aka Gwynne Kelly).
The Action Now story could easily have ended here, but Jim, Mike and Scott weren't quite done.
---
---
The Direct Hits (v.1, 1979-1980)
The Direct Hits (v.3, 1980-1981)
The Direct Hits (v.4, 1981-1982)
Action Now (v.1 1982-1983)
Action Now (v.2 1983-1984)
---
Artists • Buy Something! • Discography • Gigs • News • Sounds • Links • Mailing List • FAQ • Contact