The Direct Hits (v.2, 1980)
Initial efforts to replace Don focused on finding a new lead singer for The Direct Hits. A couple of singers tried out, without success. The band decided to expand the band's range by also looking for a lead singer/rhythm guitarist, which would move Paula to lead guitar. By the end of the summer, the band found John Huber. While not an exact match stylewise, John was a talented singer and guitarist.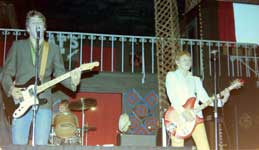 During the lull, Paula expanded the band's repertoire of songs and started writing songs completely on her own, rather than relying solely on Don for lyrics. Early all-Paula Pierce songs included Trust In Each Other and Then and Now. These songs signaled a move toward pop and away from an instrumental focus, which reflected the arrival of a real singer.

Unfortunately, John and the rest of the band never quite got onto the same page musically. His singing and guitar style was simply too mainstream. This caused conflicts and endless discussions. Don was most opposed to John being in the band—not because John wasn't good, but because John wasn't right. Don felt that it was inevitable that he would have to be replaced, so sooner, rather than later, was better for everyone.

At one memorable band meeting about the direction of The Direct Hits, John insisted that his friends thought he was "new wave." Don replied that he thought John was "boogie." Paula, Jim and Scott started calling him "Boogie John," which added tension within the band.

This version of The Direct Hits did play a few shows, including a couple of nights at That's That, a nightclub on Crenshaw Boulevard in South Central Los Angeles.

The conflict came to a head when John wanted to do songs that he had written for the band. The other members considered his songs to be the wrong style for The Direct Hits and Paula, who was really coming into her own as a songwriter, wasn't ready to share songwriting duties. With no one satisfied with the arrangement, John left the band amicably in the late fall of 1980. It truly was "artistic differences."

John went on to a long career, singing, playing guitar and writing songs in such 1980s bands as Section 8 and in the 1990s as Johny Huber in the self-described "western rock and roll" band, Farmer Tan. Johny also co-produced the Chris Gaffney and The Cold Hard Facts CD, Live and Then Some on Tres Pescadores Records.

---
The Direct Hits (v.2, 1980) Live Gallery
---
The Direct Hits (v.1, 1979-1980)
The Direct Hits (v.2, 1980)
The Direct Hits (v.3, 1980-1981)
The Direct Hits (v.4, 1981-1982)
Action Now (v.2 1983-1984)
---
Artists • Buy Something! • Discography • News • Sounds • Links • Mailing List • FAQ • Contact