The Digits (1979)
Retreating back to Chino, Paula lamented her inability to get another band going. She asked Don if he would start a new band with her. He declined, citing his lack of vocal abilities. If Paula was going to be a success, she was going to need a better singer for her songs. Don suggested that he just write lyrics for her, because Paula insisted she couldn't write lyrics.

Paula countered that Don's vocal shortcomings were caused by a chronic sore throat in The Rage, which she attributed to over-practicing (The Rage practiced from five to seven days a week) and Sue writing the songs in the wrong key. Even though he was skeptical, Don felt that Paula knew more about the subject than he did, so he agreed to sing lead and form a band with her.

Filling the slot of bass player was easy. While sleeping overnight for Bay City Rollers tickets at the Santa Monica Civic, Don and Paula struck up a friendship with Cindi Podlas, a Roller Girl from Orange County. Cindi admired Paula, and decided to learn how to play bass. Cindi equally worshiped Paul McCartney and Sid Vicious, though her bass playing style more closely resembled the latter. Still, that was good enough for Paula and Don to ask Cindi to join the band, now named The Digits, which was a name left over from Paula's punk rock experiment. Cindi's Rickenbacker bass went along with Paula's newly acquired Rickenbacker 12-string.

A drummer needed to be found, but punk/pop drummers were not in large supply in The Inland Empire in 1979. While Paula and Don were writing an impressive collection of songs, they were anxiously buying The Recycler every week, and checking the "join a band" listings at the local music stores.

They preferred another girl drummer to recreate the three girls/guy lead singer format of The Rage, and had tried to get a few girls to join. However, the only girl drummers they could find were into drum solos and had no connection with punk, pop or garage. The decision was made to select a drummer without regard for gender.

In early 1979, a listing for an available drummer "into Cheap Trick" was found during a visit to Hanich's Music in West Covina. Cheap Trick was a bit more mainstream than what Paula, Don and Cindi had in mind, but was close enough to make it worth a call.

Paula called the number and Scott Hillman answered the phone. After a short discussion, Paula asked the big question: "How do you feel about the Ramones?" Scott excitedly replied, "They're my favorite band!!!" Paula asked, "Why did you put Cheap Trick on the ad if the Ramones are your favorite band?" Scott explained that he didn't want to appear "too punk rock" because he thought he'd never find a band to join out in West Covina. Even without hearing him play a single beat, Paula, Don and Cindi knew they had found the right guy. (Trivia: Scott and Don didn't realize it immediately, but they actually had known each other years before. Scott's dad was Don's Little League coach in 1971!)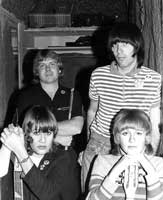 Scott came into the band with some punk rock cred. He had been in Demi Quaver with Kenny Circu on guitar (better known later as Dim Wanker in the legendary F-Word with Rik L. Rik) and Bill Ciraulo on vocals (better known later as Billy Legend of Mad Parade fame). Next, he was in Johnny Law with Bill Ciraulo.

Scott also brought along a place to practice—the living room of Scott's brother's home in Covina. Scott's brother and friends were long-haired Van Halen fans, but after a few months of listening to The Digits tear up the living room during practice and at a few parties, they suddenly sported short, spiked hair with waist-length rat tails! The Digits had developed something of a '60s obsession, though they were still buying plenty of new records.

Paula's songwriting improved and Don moved the lyrics out of high school, but not too far as they still contained a strong pop component. Despite this, the band was held back by Don's vocals, which didn't improve with Paula's songwriting, and Cindi's inexperienced bass playing. The band wavered between Who-style mod pop, thanks to Paula's Townshend-like guitar playing and songwriting and Scott's Moon-like drumming, and simpler power pop arrangements that better suited Cindi and Don's capabilities.

Shows at parties and schools continued through the year, until Cindi unexpectedly quit and dropped out of sight, also quitting the job Don had gotten her. Cindi's parents had some unorthodox religious beliefs and never quite accepted her membership in a pop-oriented garage band. Her family moved a short time later.

Cindi is still a musician, as well as a devout Christian and a mother of seven (two girls, five boys). Take a look and listen at Cindi's MySpace page.
---
---
The Digits (1979)
The Direct Hits (v.1, 1979-1980)
The Direct Hits (v.3, 1980-1981)
The Direct Hits (v.4, 1981-1982)
Action Now (v.2 1983-1984)
---
Artists • Buy Something! • Discography • News • Sounds • Links • Mailing List • FAQ • Contact